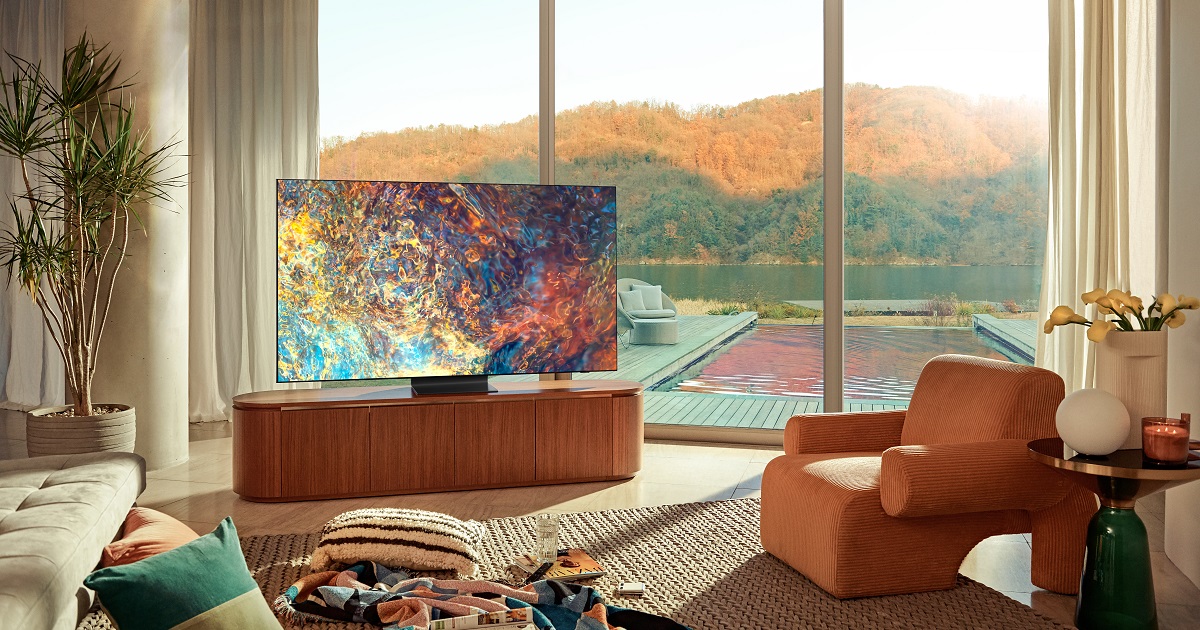 Samsung has gotten into the big television business for decades. The undisputed pillar of the sector, the South Korean giant, continues to establish itself comfortably and successfully in this highly competitive market. In 2021, Samsung will present its Neo QLED, a new technology that aims to increase the brightness and contrasts of LCD panels, among other things. Successful bet for the manufacturer.
The Neo QLED, quésako?
Samsung wants to revolutionize the television industry with its Neo QLEDs. Televisions that benefit from the advantages of a Quantum Mini LED backlighting system coupled with Quantum Matrix technology that enables recognized picture quality and quality. However, the great strength of mini LEDs is their size. They are 40 times smaller than traditional LEDs and allow more LEDs to be integrated into a TV, making the result all the more surprising. Home lighting that has proven itself so far. A principle known as Full Array Local Dimming, which consists of creating multiple backlight zones to improve the rendering of the image. Compared to conventional backlighting, Full Array Local Dimming offers even more precise results thanks to more zones that can be controlled more locally. And the brighter a TV, the better it can show the actual brightness of objects.
Another advantage of these mini LEDs is the following sublimated contrast. A performance achieved by the presence of Quantum HDR. Increased immersion, especially due to the exceptional brightness of these models. And for good reason, where the Neo QLED presents itself as a revolution, it is in its brightness. Much higher brightness than the traditional models from Samsung competitors. According to the tests carried out, the brightness of Neo QLED televisions is said to be four times higher than that of other televisions. The image should therefore be improved and the contrasts corrected upwards. In addition, blacks are really black. In total darkness, you will no longer experience terrible light leaks that partially ruin the immersion. Mini LEDs are the perfect ally for moviegoers, series fans, but also gamers. And for good reason, HDR content is precisely transmitted there to achieve a sublimated rendering.
Samsung televisions that benefit from this technological achievement are available up to 85 inches. Nevertheless, diagonals of 2 m15, which offer an even more sublime and precise picture, even more with the 8K models. Televisions that can rely on Quantum Dots nanoparticles that convert light into a billion colors. In cinema mode, 100% of the color volume is simply covered, exactly that. The director's vision can be transcribed identically for greater and greater immersion. The new video processor, the so-called neo-quantum processor, offers an image upscaling function for 8K using up to 16 neural network models, each of which was created with artificial intelligence and in any original quality. A stroke of luck for everyone who wants the best possible picture at the push of a button.
surprising sound quality, but not only
Samsung is doing everything possible with its Neo-QLEDs. An incomparable picture that is supported by an unbelievable sound quality. A comprehensive and, above all, impressive sound experience driven by the latest spatialization and object recognition technologies. Whether you are the proud owner of a model with 60 to 80 W speakers, you will enjoy an incomparable sound. The reason ? An internal feature that allows you to track objects in a scene to reproduce the sound on the speakers, resulting in sound perfectly aligned with the picture. This technology, known as "Object Tracking Sound +", is radically changing the sound experience of televisions. To put it simply, to try is to adopt it.
The extremely thin Samsung Neo QLED televisions owe their dream design to a detachable OneConnect remote control on 8K models. All your connections and other connections are collected in one place. You don't have to turn your TV over to make time-consuming tweaks. Everything is easily accessible now. The icing on the cake, the housing can be camouflaged in the decor to further cleanse your relaxation area. No cable in sight, purists will be in heaven.
To make your work even easier, Neo QLED TVs have features such as Multi View or compatibility with a smart camera. The first option allows you, among other things, to view a video call on part of your screen in order to enjoy your program while remaining attentive to what the interlocutor is telling you. The second is nothing more than compatibility with a motorized camera that can track your movements and zoom in if necessary to ensure that you are in the center of your video conferencing. The Google Duo application can be installed there by May, so that more than 12 people can be viewed at the same time. A television that will revolutionize your habits by placing it at the heart of your technological needs. Samsung's Neo QLED TVs are much more than just TVs, they offer simplified access to large content in 4K and 8K. Disney +, Netflix, myCANAL, OCS, PrimeVideo, Rakuten TV, Salto, YouTube, many free applications that can be found thanks to the universal solar remote control that came with the TV. A voice-controlled TV that lets you quickly find your content using your voice.