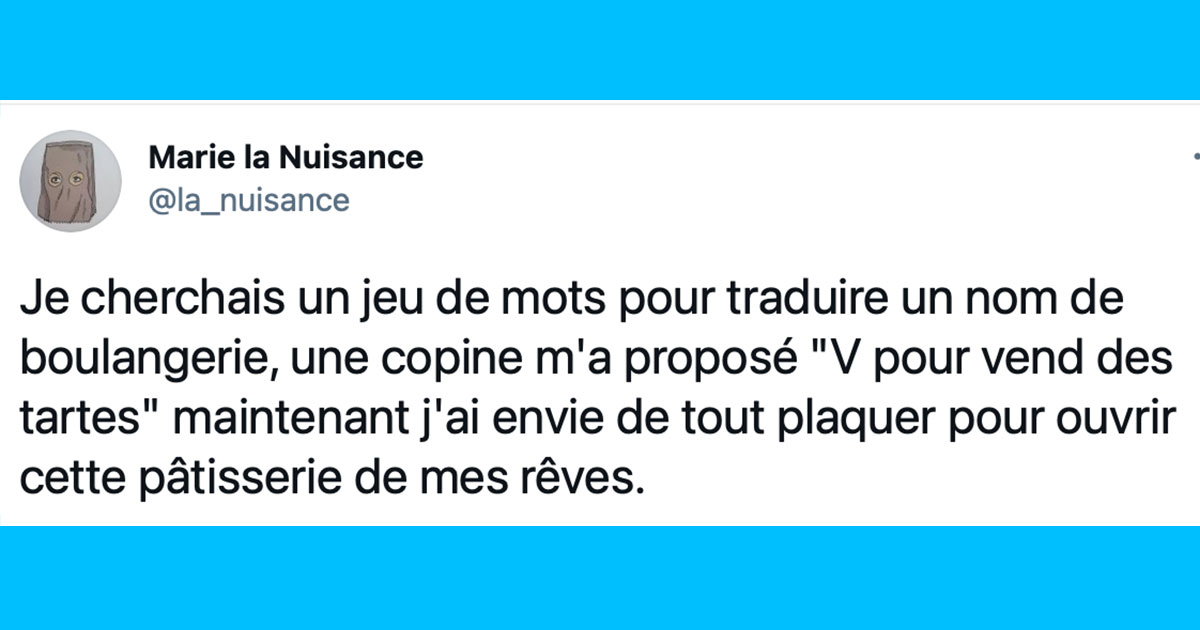 In a week we will be back to a more or less normal life. Shops, cinemas, theaters, museums and bars that are not absolutely essential can finally open their doors again. While we wait for that return to normal, we offer you our weekly relaxation tray with the 309th issue of our top tweets of the week. Like every week, our community manager checked social networks for tweets that marked the last week. This 309th selection concerns the week from May 3rd to May 10th, 2021.
# 1 lack of culture
Me: * draw a mermaid drowning a man *
Men: "Wah, but what did this man do to deserve this?" "" She is not very nice that siren "…
… do you even know the concept of the "mermaid" ?!
May 3, 2021
# 2 it's not wrong
Everyone has a neighbor who walks naked, and if you don't have a neighbor who walks naked, it is because you are the neighbor who walks naked
May 3, 2021
# 3 existential question
ah yeah 90% of twitter is in school, we can finally talk between adults.
Who did you take as your personal on Mario Kart Wii ???
May 3, 2021
# 4 good luck to him
If you feel like you have too much work today, think about the lawyer handling the Bill Gates divorce
May 4, 2021
# 5 Large amount of salt
French streaming, seems obvious to me https://t.co/5er7jJ2rUT
May 4, 2021
# 6 The idea of ​​genius
I was looking for a play on words to translate the name of a bakery. A friend suggested "V to sell cake". Now I want to give up everything to open this pastry of my dreams.
May 4, 2021
# 7 When you're on a date but don't know where and with whom
I have this in my notes. I will fart. I have to be WHERE on May 17th. pic.twitter.com/XQ0LmXdzWg
May 5, 2021
# 8 He hadn't overworked
Dead from this student's copy pic.twitter.com/O85moDM3Ak
May 4, 2021
# 9 good question
As we are in the process of posting important topics on Disney, I would like to know why beauty has to learn to love the beast because of its internal properties and in spite of its body, when the beast has the right to love beauty only because it is beautiful is.
May 6, 2021
# 10 At least he knows what he wants
That's it friends … pic.twitter.com/wjRBbcwCyi
May 6, 2021
# 11 With that they would have flown well
The Titanic First Class: https://t.co/aKG5XGsNXO
May 5, 2021
# 12 More fear than harm in the end
Is this the same China that said a year and a half ago that the bizarre pneumonia epidemic in Wuhan was COMPLETELY under control? Or is it a namesake? pic.twitter.com/PcyBCmTvuR
May 7, 2021
# 13 It can be Rue Saint Denis
Strange that dog pic.twitter.com/VIl2SU9N2e
May 7, 2021
# 14 the luxury cat tree
Honestly, my cats deserve this pic.twitter.com/7DUM7DWGTu
May 7, 2021
# 15 It's not good to lie and have false joys
Apple's weather has lied a lot lately.
May 9, 2021
So much for these new top tweets. We will meet again next week to make a new selection. In the meantime, you can always discover or rediscover the 308th selection from the last week here.