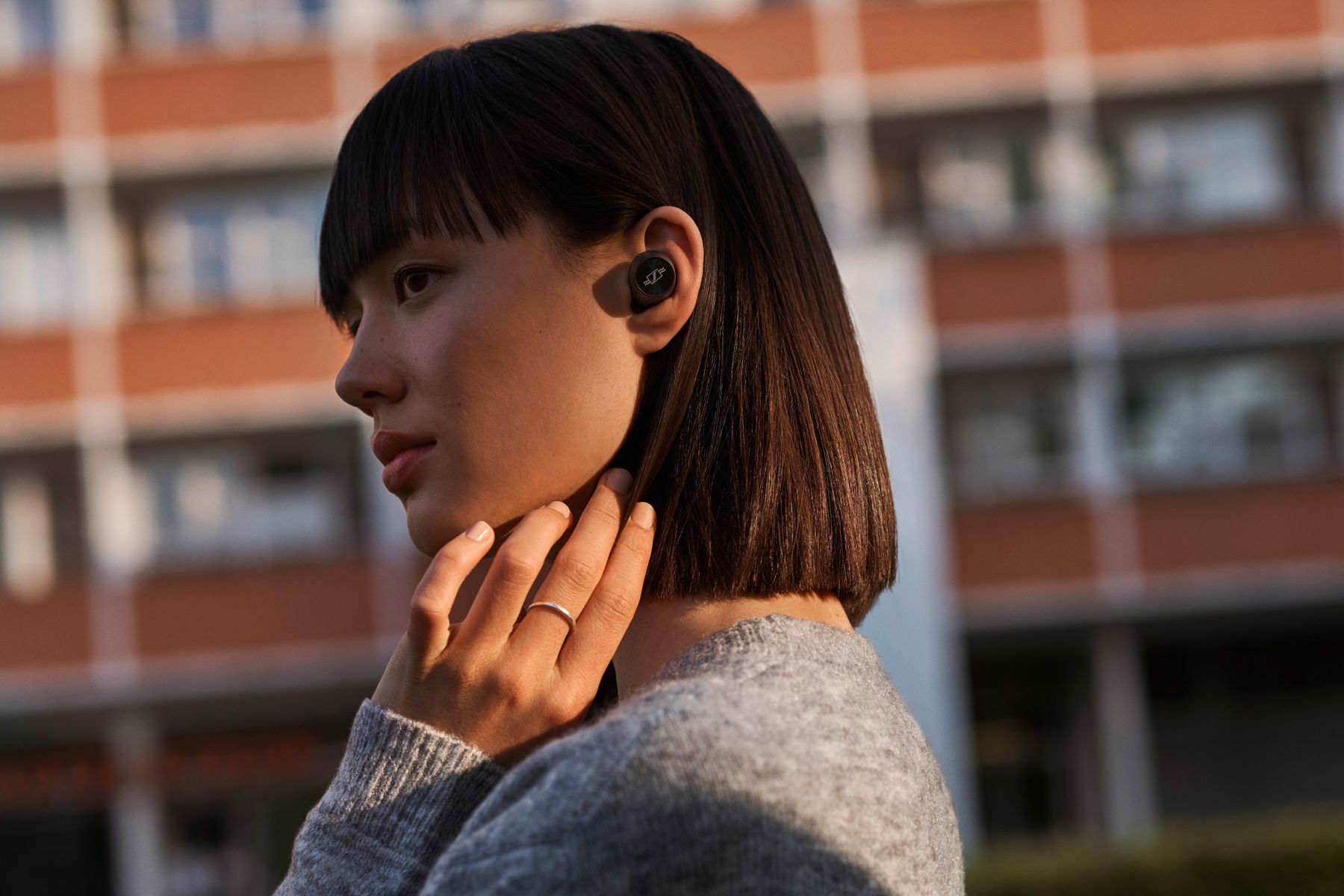 Since Apple launched its first AirPods, the Bluetooth headphone market has been booming and many, if not all, manufacturers have entered this market. To see more clearly, we will see together which model to choose.
Which format is best?
In-ear or button? This is the first question to ask as a lot of people don't support this format and prefer the AirPods button format or Samsung's magic beans.
However, in-ear headphones have a significant advantage over open formats, as they allow passive noise reduction thanks to the isolation specific to their design. In addition, they often hold much better in the ear. Little personal anecdote, I sold my Vivo TWS Neo after less than 30 minutes of use because I was unable to wear them without them falling.
On the other hand, the intras are not necessarily the most comfortable as you have to insert this rubber tip into the ear and although manufacturers always offer several sizes, there are times when it is uncomfortable or even slightly painful for prolonged use.
For its part, Samsung made a radical decision by offering its Samsung Galaxy Buds Live in bean format. While they are very comfortable to wear, they do not offer any noise reduction technology.
Which noise reduction technology to choose?
This question might sound silly as they are simple bluetooth headphones, but there are many technologies that need to be checked before choosing. We'll discuss the most important ones here so you can see more clearly.
First the noise reduction. You read it above, in-ear headphones all have passive noise cancellation. This means that the isolation created by the headphone format isolates the sound and allows for better immersion. In addition, the most advanced headphones feature active noise canceling technology.
This technology, invented by Bose, uses one or more microphones that are positioned to pick up the sound wave to be attenuated by generating a wave of the opposite sound through the headphones.
If you can choose headphones that use both active and passive noise cancellation, this will give you the best sound quality.
Which codecs must be available?
In addition to noise reduction, you also need to consider the technical characteristics of your headphones, especially the Bluetooth technology used. Choose at least headphones with Bluetooth 5.0 technology to reduce latency to around 150 ms. With 5.2 technology, you can even lower it to less than 100 ms. This is especially useful when you are playing on your smartphone.
In terms of audio quality, you need to look at the codecs that are compatible with your headphones. These guarantee you a certain level of sound transmission quality.
When using an Apple device, it is imperative to purchase headphones that are compatible with the brand's preferred AAC codec. This is only an alternative to SBC (the basic codec used in Bluetooth), but improves the audio quality of the devices equipped with it.
For Android, you need to turn to the AptX codec. This was developed by Qualcomm and, thanks to its much higher bit rates than the SBC codec, offers much lower latency and much better audio quality. In this family made by Qualcomm, you have the classic AptX, AptX HD, AptX Low Latency and finally the most recent, the AptX Adaptive.
The LDAC is a codec developed by Sony, whose reputation in the sound field is well established. This is a really high end codec as it offers bit rates of 330, 660 and 990 kpbs. For comparison: SBC achieves 330 kbps, AAC 250 kbps and AptX 576 kbps. The sound quality is therefore much better because with such rates we are getting very close to lossless sound quality. Unfortunately, most smartphones automatically choose a rate of 330 kbps.
After all, the LDHC codec competes with Sony's LDAC. It was developed by Savitech and you only need to select devices with this codec if you own a Huawei smartphone as the manufacturer is the only one to offer compatible smartphones. It offers rates of 400 kbps, 560 kbps and 900 kbps. As you can see, we are very close to LDAC, but in addition, LDHC created LLAC which can be used to reduce latency (like AptX LL).
What are the best products on the market?
Currently on the market, many manufacturers want to attract attention. There is something for every budget. Here are the models we can recommend: Bose QuietComfort earbuds, Sennheiser Momentum True Wireless 2, Apple AirPods Pro, Sony WF-1000XM3, Huawei FreeBuds Pro, OnePlus Buds, Xiaomi Mi True Wireless earbuds 2 Basic.
Bose QuietComfort earphones, quality has a price …
Who better to offer us than Bose headphones that border on perfection? With its QC earbuds, the American manufacturer offers us the best on the market without offering any technological innovations in terms of compatible codecs.
The noise reduction is the best on the market, the sound quality is exceptional and the comfort is second to none in the market today. Despite all these positive points, compatibility with Qualcomm's AptX codecs must be forgotten and satisfied with AAC and SBC.
They are available at a price of € 279. It is certainly a significant sum, but it is what you have to pay to have the market's must.
The pros: very comfortable, exceptional sound quality, best active noise reduction on the market
The -: no AptX codecs, high price
Sennheiser Momentum True Wireless 2, the European challenger for music lovers
Sennheiser is another big name in audio. While the earliest Momentum TWs were not up to date on the name, the second generation has addressed all the shortcomings in order to produce the best sound quality for true wireless headphones. They are compatible with AAC, SBC, and AptX codecs. Unfortunately no AptX LL, which leads to a latency of more than 300 ms.
Another unfortunate point is that the active noise reduction is really bad compared to Bose and only the passive noise reduction is felt. This Sennheiser Momentum True Wireless 2 offers only 20 euros more than the Bose and, with its best audio quality, is the benchmark for music lovers.
The pros: the best sound quality on the market, very comfortable, AptX compatible
The -: latency greater than 300ms, active noise reduction almost non-existent
Apple AirPods Pro, if you have an iPhone, go for it!
How not to mention AirPods Pro when talking on bluetooth headphones? They are the undisputed benchmark for all Apple smartphone users. Their in-ear format is very nice and comfortable, and on top of that, they offer excellent audio quality.
They are actually not the best, but they are very homogeneous and have no real flaws. Connectivity is particularly stable with an iPhone, and software integration makes it easier to use. Active noise cancellation is also very powerful, which is noticeable for headphones that are priced at $ 279 on Apple's website but which you can easily find elsewhere for under $ 250.
The +: very homogeneous, effective active noise reduction, integration into the iOS ecosystem
The -: Price too high (in the Apple Store), cotton swab format
Sony WF-1000XM3, the old benchmark that still has it in its stomach
Sony always offers great products and the WF-1000XM3 are here to prove it. Although they are from 2019, they are an excellent choice because of the quality of the sound they deliver and especially the quality of the active noise reduction they offer.
With a price of less than € 170 you can take advantage of all the know-how of the Japanese manufacturer and have a careful design and quick access to the wizard of your choice. They are also very comfortable and offer a level of autonomy that no other product in this comparison can match (6.30 hours on a single charge). It's a shame the touch controls aren't the most intuitive, and in their larger chassis, they aren't the easiest to carry than the competition.
The pros: sound quality, active noise reduction with high performance, battery life
The -: not very intuitive touch controls, bulky charging box
Huawei FreeBuds Pro, less than $ 150, they do the job very well
It was very difficult to separate them from the Jabra Elite 75T in this price range (you can find our review here), but the latter's reliability concerns mean we'd rather recommend the Huawei FreeBuds Pro.
These offer a balanced sound quality with very good active noise reduction, an acceptable cotton swab design and compatibility with AAC and SBC codecs. They are quite comfortable, but we regret a companion application that is only available in the full version on Huawei smartphones.
The pros: good sound quality, good active noise reduction, good price-performance ratio
The -: Application only for Huawei, no AptX
OnePlus Buds, for allergy sufferers under 90 €
The OnePlus Buds have two big advantages over the competition. They have the same format as the AirPods, ie "buttons", and are mainly offered for less than € 90.
For this price point, the sound quality is convincing (at the AirPods level) but don't expect it to still benefit from active noise cancellation or compatibility with AptX codecs … in addition, you can customize it, you'll need to have a OnePlus via Smartphone. In itself it's not the most annoying thing, but it's a shame.
The pros: best sound quality for less than 90 €, "button earphones" format, good price-performance ratio
The -: no isolation, no companion app
Xiaomi Mi True Wireless Headphones 2 Basic for tight budgets
Do you want to satisfy yourself without breaking the bank? Xiaomi is always there for you! For less than € 40, the Mi True Wireless Earphones 2 Basic offers you the convenience of button-sized headphones at a much cheaper price than Apple and even OnePlus.
Of course, you get what you pay for, and these headphones won't be what the competition has to offer in terms of sound quality, but the fact remains that they provide a good sound experience for headphones this price point. If you don't want to ruin yourself, this is the model you should turn to. If you prefer Intras, Xiaomi has you in mind with the Mi True Wireless Earphones Lite, offered at the same price of € 39.99.
The +: price-performance ratio
The -: no noise reduction, sound quality below the competition