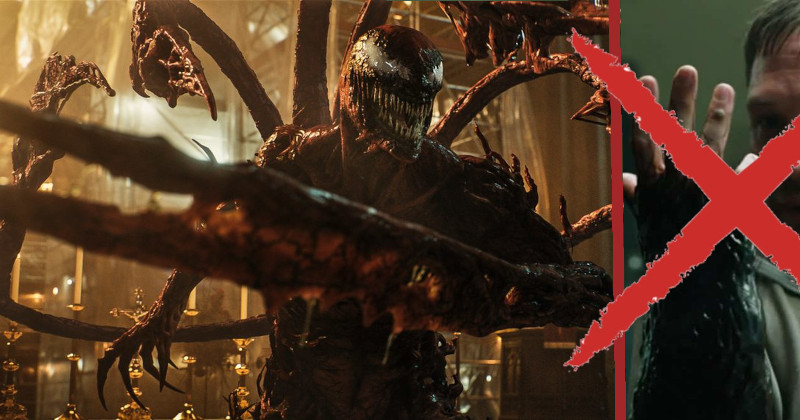 The sequel to Venom 2018, directed by Ruben Fleischer, Venom: Let There Be Carnage, has been available in our cinemas for a short week. And if the joke has already been made by all conceivable media, let's not deny it: It's a real slaughter. If the first opus had already been shot by the press, the opinions of the audience were more mixed. But this second part, this time directed by Andy Serkis, is unfortunately buried almost unanimously for him. Among the major criticisms surrounding the film, its side is too slick, not violent enough for an adaptation of a character like the Marvel symbiote. If you agree, this information can make you even more frustrated.
Venom: Let There Be Carnage, a film accessible to most
Let's face it, whatever you think of the latest feature film starring Tom Hardy as Eddy Brock and his symbiote, it turns out (a little) more violent overall than the average MCU movie. We're far, very far, too far from horror film, but the feature film still has a Pegi-13 in the US and is banned in our country for children under the age of 12.
While some praise the film's desire to make itself accessible to as many people as possible, the vast majority of Venom fans were already disappointed when they heard the news. The symbiote of the comics is particularly dark and very violent, often quite explicit. Hence, the idea that the character's image is smoothed out to please the general public is displeasing.
The film's team is aware of this, and we know the question sparked much debate: Tom Hardy had stated that they "hesitated for a long time to make a more violent film," but after Reflection they had to decide, " Not to withhold these symbiotes from a younger audience, "the film is meant for them too. Hence the choice to delete or revise certain scenes.
A murder scene yes, violence no
So if Venom: Let There Be Carnage was considered a "Rated-R" production for a while, the idea was quickly abandoned, which led to a profound modification in particular of one scene: the one in which the main opponent, carnage, flees, guards confront. For one of them, crossing the ugly symbiote will have him – literally – tucked over his neck as Carnage sticks his tongue down his throat to eviscerate them.
A similar scene occurs in the comics and Carnage then uses one of his tentacles. But Sheena Duggal, the special effects supervisor, thought it was "funnier" (in her words) that he used his language instead. If we carefully refrain from offering Sheena Duggal "fun" activities, we will particularly note that this scene in this form will never finally see the light of day in the final cut.
While it's true that violence is effectively suggested than too crudely shown in a movie, one can understand the disappointment of the symbiote's fans who would have wished for more violence than other more controversial aspects of this Venom: Let There Be Bloodbath. As for you, were you disappointed with the result? Don't hesitate to let us know what you think in the comments!