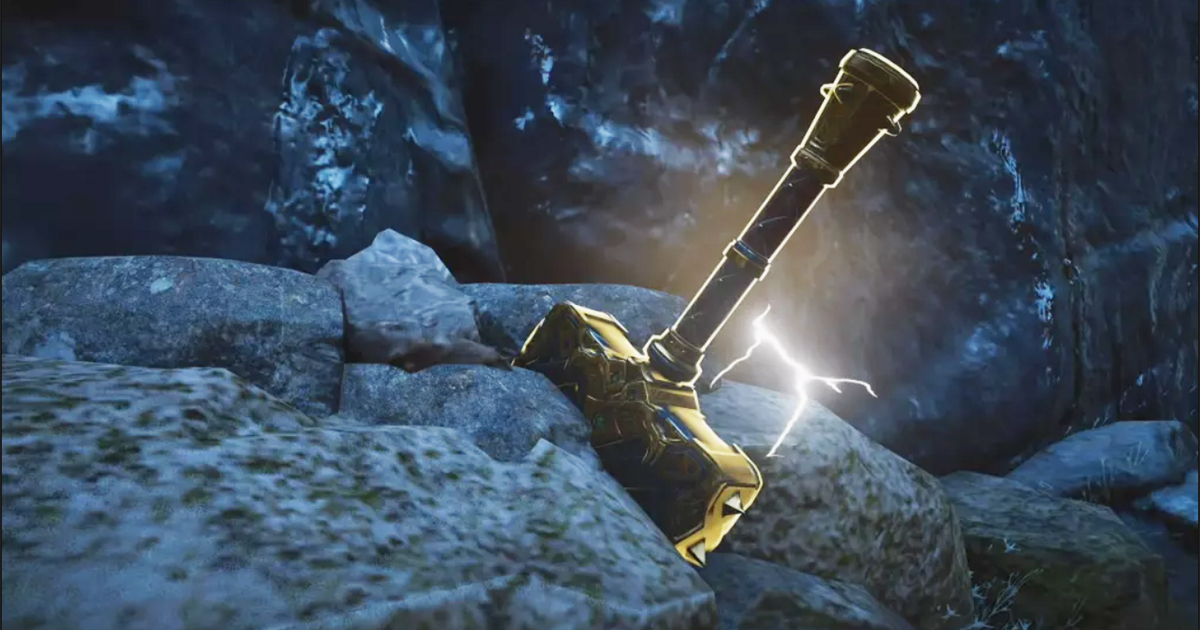 The game Assassin's Creed Valhalla is full of references to Harry Potter, the Lord of the Rings, One Punch Man, but also Death Stranding and many other elements of our culture. Now we had to set up the equipment for Thor and Mjolnir so that all players could upgrade accordingly.
How to get Thor and Mjolnir's gear
Finding Thor's gear and Mjolnir is an endgame activity. To get the first three pieces of Thor's gear, you must relentlessly hunt down the Daughters of Lerion. These are three special enemies found near East Anglia.
Don't leave without knowing what to expect – these are tough fights. The highest power level is 300, so you'll need adequate power and equipment. So let's go to the attack by Goneril, Regan and Cordelia, the three bosses who each drop a piece of Thor gear. They represent the first step in our search.
# 1 Goneril, in Grantebridgescire
The first boss to defeat Goneril is the one who will be the easiest to defeat. This chief's main danger is his diving attack. If Goneril disappears, be careful: there's every chance she'll reappear right next to you. The best technique is to parry and counterattacks immediately afterwards. If you manage to remove 50% of his health, Goneril will create clouds of poison. At this point, it's better to rush right on it to end it asap (keep adrenaline rushes under your elbow!). After killing Goneril, collect Thor's breeches.
# 2 Regan, East Anglia
Regan is tough and has mastered the element of fire. You won't really be disoriented as his movements are similar to Goneril's. But there is a small difference: its spiritual double, which you will see much more. When you've scratched it 50%, its double will release traces of fire. Watch out for explosions! When you've defeated them, you'll collect Thor's breastplate.
# 3 Cordelia, East Anglia
You are now facing the boss of lightning, a very quick boss. To get out you need to know how to dodge like a master. Once half of his life has passed, you must face his divine wrath, similar to that of Zeus. Cordelia is indeed going to drop lightning and you must win the circles drawn on the floor as fast as possible to get out of them. Once the boss is defeated, you will receive Thor's gauntlets.
# 4 Thor's grave, eastern England
Now that you have the first three pieces of Thor's equipment in your possession, along with the daggers you have collected, you can go to Thor's tomb. You need to find an entrance between King's Bury and Burgh Castle. Go through this maze until you find a statue. Use your daggers to fill in the three slots: this will reveal stairs. Follow them to discover Thor's helmet.
# 5 Get rid of the order of the ancients
This step takes the most work and time on your part. You have to defeat 45 different targets in fact. Typically, if you've followed the story, you've already killed 13. Hytham in the Ravensthorpe Colony will actually entrust you with one final mission: to kill the father who is none other than the supreme chief of the Order of Elders in England. The other good news is that of your 45 destinations, 30 have fixed locations. As your colony grows, you should be given guidance on their locations.
For those whose positions are not fixed, here are some pointers:
Osgar is in Lincolnscire.Heike in Essexe.Bercthun in Hamtunscire.Hrothgar in Suthsexe.Cudberct in Oxenefordscire.Horsa in Oxenefordscire.Kendall in Grantebridgescire.Required in Glowecestrescire.Woden at Cent.WealantevescinecireWire. Redwalda to Ledecestrescire.Cola southeast of Eurviscire.Wuffa to East Anglie.
Last good news: Zealots are especially tough, so it's better to have a significant level before attacking them. Therefore, Ubisoft will keep them even after the story is over. You can therefore devote yourself to this at the very last minute, when it is easier for you. Hytham will then give you Thor's cloak.
# 6 Mjolnir
Now you are finally ready to purchase Mjolnir! You must equip yourself with all the equipment you have previously received and drive as far as Northern Norway. Thor's hammer is somewhere between cliffs not far from Hordafylke. You can remove it with just all of Thor's gear on.