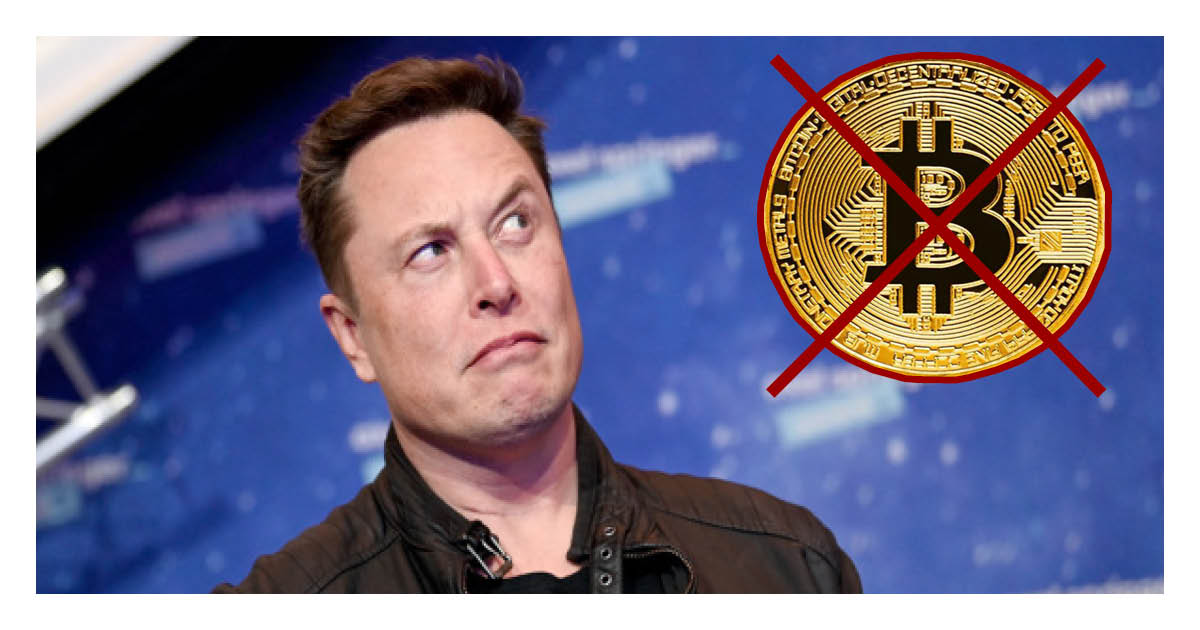 A dramatic change in the world of virtual currency. Tesla founder Elon Musk made a drastic decision yesterday when he said Tesla is giving up Bitcoin to pay for its electric cars.
Rotate 90 °
The story between the world's second largest fortune, Elon Musk, and Bitcoin is almost romantic. Earlier this year, his electric car company Tesla invested $ 1.5 billion in Bitcoin. A few months later, in March, Musk raised the price of virtual currencies by tweeting that it was possible to buy a Tesla in Bitcoin. In April, its cryptocurrency portfolio was worth $ 2.48 billion, according to an inventory document released in late April.
Since the beginning of the year, the introduction of Bitcoin by Mastercard and other companies has also helped push the price of the currency to unprecedented levels.
But with Elon Musk you have to expect everything, especially unexpected changes of direction. If we know that the boss – even at the top of SpaceX and Neuralink – may be environmentally sensitive, his decision to withdraw Tesla from the famous cryptocurrency had the effect of a bombshell.
Tesla & Bitcoin pic.twitter.com/YSswJmVZhP
May 12, 2021
Tesla has suspended Bitcoin car purchases. We are concerned about the increasing use of carbon-rich fuels to mine Bitcoin, especially coal, which has the worst emissions of any fuel.
130.50 million tons of carbon dioxide emissions by 2024
We know that bitcoin mines use a lot of electricity, creating a virtual currency brings in a lot of energy, which is the same as the consumption of a country like Sweden. Creating bitcoins requires an astronomical amount of electricity. In China, for example, some locations are running at full speed full of computers and get their energy from coal-fired power plants. According to a study by the journal Nature, these IT hubs will ultimately cause 130.50 million tons of carbon dioxide emissions by 2024 if nothing is done. Paradoxical as Chinese Bitcoin mines handle almost 80% of the world's cryptocurrency trade.
Cryptocurrency is a good idea on many levels and we believe it has a bright future, but that shouldn't harm the environment. Tesla will not sell Bitcoin and we will use it for transactions once the mines run on more sustainable energy.
Fantastic, but not megalomaniac
We have seen in the past that the head of Tesla could turn in favor of ecology when he left the group of chief advisors to the White House due to the withdrawal of the Paris Climate Agreement in early 2017, also said in a podcast by host Joe Rogan in September 2018 :
We should accelerate the transition to sustainable energy as we will obviously run out of oil in the long run. That is why we need a long-term sustainable energy and energy transport infrastructure. So we know this is the end point. So why go through this crazy experiment where we take trillions of tons of carbon underground and put it in the atmosphere and oceans? It's a crazy experience.
In terms of the cryptocurrency, the price fell more than $ 7,000 and was around $ 50,000 in the evening, a drop of almost 12%. Here is a decision the Twitosphere has not ignored two weeks after a very delicate position. Here are some responses. Don't hesitate to comment on this decision-making as well.
Tesla no longer accepts #Bitcoin, which, according to Elon Musk, is too bad for the environment.
The same person three weeks ago: pic.twitter.com/6PPQM1Swvy
May 13, 2021
Hello everyone except Elon Musk
One blow is a brother, the next day a traitor. He plays with our balls and it starts to break mine to see how he manipulates the market like that (for his personal benefit? Ud83e udd28)
Otherwise, meet at 4 p.m. for a new surprise … ud83d ude0f
May 13, 2021
The guy wants to go to Mars and finds out one fine morning that #Bitcoin is using energy ?! #seriouslyElon
May 13, 2021
The head of Bitcoin at the moment: # ElonMusk # Bitcoin pic.twitter.com/FKwYsmrTHd
May 13, 2021