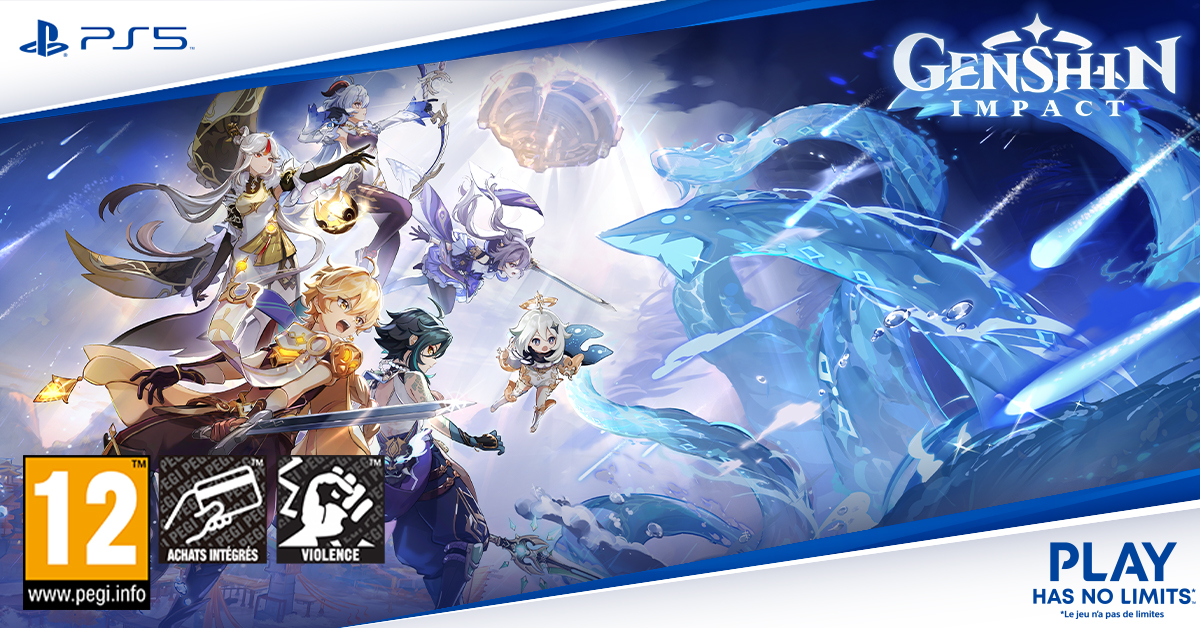 Genshin Impact launched on PS4 last September and didn't take long to hit the world. This gacha from China with A-RPG mechanics immediately seduces with its large and colorful open world, intuitive gameplay and characters with different skills. On April 28th, Genshin Impact welcomed its major update 1.5, which brought a lot of new content as well as a free upgrade for PS5.
Free epic adventure from start to finish
In Genshin Impact, players take control of Teyvat, a continent that is divided into several regions. Monstadt, Liyue and soon Inazuma, the game's huge map keeps getting bigger as the months go by. These regions are constantly being renewed, leaving it up to players to visit every nook and cranny, greedily rewarding exploration. Free from start to finish, this narrative adventure puts you in control of the adventure known as "The Traveler". He originally comes from a distant country and is looking for his siblings who can point the clues in this direction.
In addition to the Traveler, you can control a wide variety of characters with Genshin Impact. Currently, as many as 33 playable characters can be obtained and then controlled. Different characters, different skills, each character is unique. You are free to choose your favorite, especially since the adventure can be completed with any character. These characters come from 6 different elements and resonate with each other, offering complete synergies between their skills.
The battles are dynamic and strategic. It is up to you to use the right elements to defeat your enemies without forcing them. An exploration and sometimes epic confrontation on an unforgettable symphonic soundtrack. Traverse different dungeons and improve the characteristics of your characters by getting your hands on artifacts with different statistics. Then it's up to you to face more difficult challenges in your search for ever rarer objects. And if you don't want to go alone, you know that Genshin Impact is playable in co-op for up to 4 players.
a PS5 version that puts stars in their eyes
With Update 1.5 on April 28th, Genshin Impact is now available for PlayStation 5. A godsend for next-generation Sony console owners who can enjoy Studio miHoYo's a-RPG in 4K 60 FPS. Of course, the performance of the new PlayStation console Genshin Impact improves beyond its resolution. This shortens loading times and improves textures.
And for those who are wondering, don't worry, it is possible to import your progress from PS4 to PS5. This free upgrade therefore makes it possible to sublimate the continent of Teyvat while offering a sublimated adventure.
an update 1.5 that is full of new features
After a 1.4 update on March 17th, Genshin Impact will be updated a few weeks later to welcome the 1.5 update. On the program: 2 new characters, an expanded story, 2 new bosses and a new game mode with which you can create your own domain. Genshin Impact players can therefore take advantage of this new update to try and recruit Eula, the Lunar City Sprinkler, and Yanfei, Liyue's legal advisor. A 5-star Cryo character and a 4-star Pyro character who have practical skills against both standard monsters and bosses.
This update 1.5 is also an opportunity to expand the story of Zhongli, the ruler of Teyvat Rock. His story is told in more detail through a series of quests that carefully examine the history and culture of Liu. The opportunity to learn more about this valued and powerful character, whose shield is capable of real accomplishments. But be careful, in the course of your adventures you will discover a new and particularly tough monster at the end: Azhdaha. This creature is capable of manipulating the elements in abundance. She is also one of the two new bosses brought forth by this update. A liyue boss that you can then meet regularly to collect various specific items.
To diversify the joys, a second new boss has appeared: the cantor of the Abyss-Purple Lightning. Unlike its counterparts featured in Update 1.4, the latter indulges in the use of remote attacks. He masters the electrical and hydro elements and can even reduce your elementary energy. So you have to be vigilant. As the name suggests, this boss is camped in the Abyss, an area whose remote locations are reserved for the most seasoned adventurers. The icing on the cake, a new hypostasis, connects the Dosdragon Mountains: the cryo-hypostasis.
To breathe a little between epic excursions, Update 1.5 introduces an Inner Realm created by the energy of the Adepts themselves. To access it, nothing could be easier. Just use Madame Ping's famous magical teapot. The latter is now called "Serenithéière" and sends you to one of the three available areas: Floating House, Emerald Peaks and Isle of Freshness. Three postcard slots that you can personalize according to your taste. Kingdoms you can even show your friends.