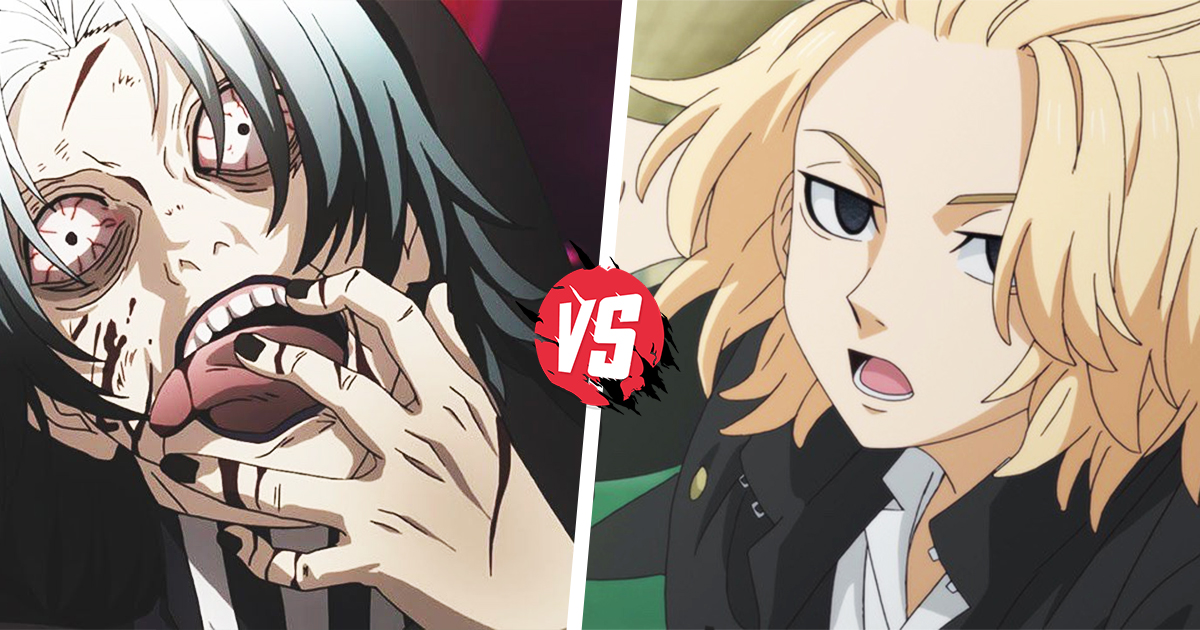 We are sometimes tempted to compare some key works of the moment or see connections between several current mangas like One-Punch Man and The Player That Can't Level Up. These comparisons sometimes lead to debate, as is the case today. At this moment, internet users are actually waging a little war on social networks to find out what is the best manga between Tokyo Ghoul and Tokyo Revengers. We take stock of the issue.
The current fight on Twitter
On Monday May 10, 2021, a small war was born on Twitter between two very different camps: the Tokyo Ghoul Fan Camp and the Tokyo Revengers Fan Camp. These two mangas deal with very different subjects, however, as in Tokyo Ghoul, creatures called "Ghouls" appeared in the city of Tokyo and have since fed on human flesh (to survive). One day, Ken Kaneki, a young student, was attacked by one of them and unfortunately suffered a serious injury. To stay alive he had to have a transplant from the ghoul who attacked him and then became a hybrid, half human, half ghoul.
On the Tokyo Revengers' side, things look very different. We find ourselves in 2017 after the adventures of Takemichi Hanagaki, a young man of 26 with a grim life, who learns that his college ex-girlfriend, Tachibana Hinata, died in conflict with the latter's little brother. Naoto and the Tokyo Manji-kai Gang. This event will be the beginning of Naoto's search.
You will understand, these manga are very different and it is only the proper name "Tokyo" that brings them together. About 10,000 tweets were recorded on the subject in 24 hours, proof that fans are determined to win the work they love most.
The two opposite camps
Everyone can use their little argument to advertise their favorite work on Twitter. First, let's start with Tokyo Ghoul fans who objectively outnumbered their favorite manga:
You've got the deodorant from Favorite Tokyo Avengers to Tokyo Ghouls, but to say Tokyo Avengers are better than Tokyo Ghouls Noon you have something on your mind serious ??? WE ARE TALKING ABOUT A SUBLIME AND COMPLEX WORK ROOH
May 11, 2021
Another day Tokyo Ghoul defeated Tokyo Revengers 10-0
May 11, 2021
But the camp of those who put forward Tokyo Revengers did not give up so far:
Tokyo Revengers bring Tokyo Ghoul 5-0, but quietly https://t.co/tsn0qMQUHX
May 10, 2021
Tokyo Avenger >>> Tokyo Ghoul
The one who disagrees that he comes this fight with me https://t.co/8T4opqQXrD
May 10, 2021
Mdrrr won't make me finish this shitty job that is Tokyo Ghoul, my mother's life
Tokyo Revengers I've seen 5 episodes and it's already better https://t.co/l6VwvYcQeb
May 11, 2021
This little war between anime lovers had the merit of making other internet users laugh who made fun of the fight:
The Tokyo Revenger and Tokyo Ghoul Commu only fight PCQ. Both have Tokyo in their name pic.twitter.com/DV59hBu6a5
May 11, 2021
The Commu Tokyo Revengers who go to war against those of Tokyo Ghoul https://t.co/MIzVIKphWM
May 11, 2021
Imagine comparing Tokyo Ghoul and Tokyo Avenger when the only thing they have in common is "Tokyo". I'm crying we hit a certain level of shit
May 11, 2021
What do you think is the best manga between Tokyo Ghoul and Tokyo Revengers? We will again let you participate in the debate by responding to our poll and sharing your arguments with us through the comments section! And if you want to confront someone who is also knowledgeable about anime, we recommend that you challenge us with our quiz about the most famous anime replicas.