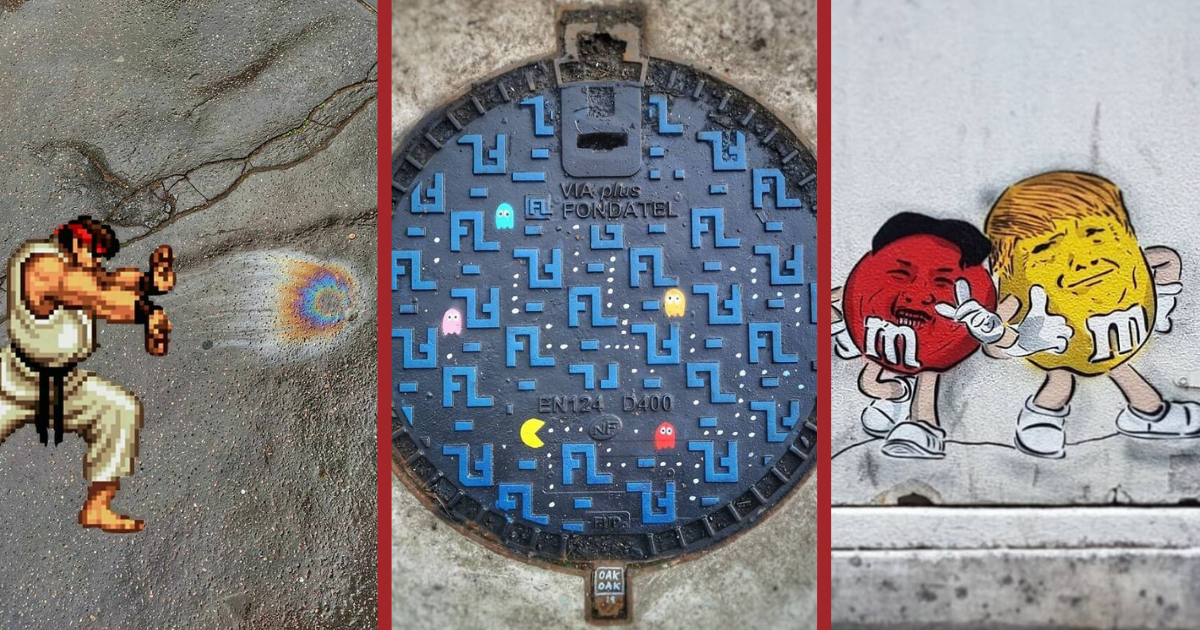 Art galleries may be closed due to the health crisis, street art continues to make us dream thanks to the creativity of artists who train outdoors. Oakoak is a street artist from Saint-Etienne and his art has always had no other aim than to lighten the sadness of urban concrete. To make passers-by at a bend in the street smile, Oakoak is always inspired by pop culture: Asterix, Mario Bros, Star Wars, The Simpsons, Disney, Marvel, anything is possible!
Full of ideas, the artist has the peculiarity of using the elements of street furniture made available to him to create original frescoes, sometimes in 3D. Everything is a pretext for creation: an old abandoned mattress is integrated into a famous trio of cowboys, a trash can becomes a sublime saxophone, and a manhole cover is turned into a Pac-Man maze …
Today we invite you to discover or rediscover his work.
# 1: PAC-MAN
# 2: duck hunting
# 3: MARSUPILAMI
# 4: THE SIMPSONS
# 5: ASTERIX
# 6: THE SIMPSONS
# 7: PAC MAN
# 8: THE SIMPSONS
# 9: STREET FIGHTER
# 10: MATRIX
# 11: MARIO BROS
# 12: PICSOU
# 13: STAR WARS
# 14: Beauty and the Tramp
# 15: The SIMPSONS
# 16: the good, the bad, and the ugly
# 17: MARIO
# 18: X-MEN
# 19: MARIO
# 20: ASTERIX
# 21: Lego
# 22: THE SIMPSONS
# 23: ASTERIX (homage to Uderzo)
# 24: Aladdin
# 25: THE SIMPSONS
# 26: SPIDER-MAN
OAKOAKS OTHER WORKS:
# 27:
# 28:
# 29:
# 30:
# 31:
# 32:
# 33:
# 34:
# 35:
# 36:
# 37:
# 38:
# 39:
# 40: